MAGICK OF THE TAROT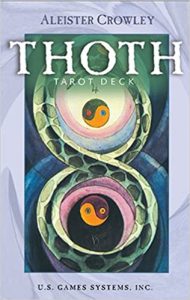 Tarot cards have the power to change your life!
Thoth Tarot Major Arcana : The 21 major trumps represent the spiritual journey the Fool (Atu 0) must travel to reach Enlightenment. They are therefore in their highest expression, a pictorial description of the pathway to God Realisation.
21.12 Dollar US$
https://yoga-magick.blogspot.com/p/tarot.html
Thoth Tarot, Tarot, Aleister Crowley
==============================================================
Giant Rider-Waite Tarot Deck: Complete 78-Card Deck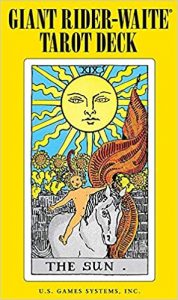 Giant-sized version of the world's most popular tarot deck!
In traditional Western occultism, the Tarot is recognized as the keystone of the whole philosophical system called Hermetism. It is very hard to discover its actual origin. The most competent and famous occult authors like Eliphas Levi, P. Christian, Fabre d'Olivet, Theophrastus Bombastus von Hohenheim (Paracelsus), Oswald Wirth, Papus (Dr Gerard Encausse) and others, are of the opinion that the Tarot's true symbolism comes from Ancient Egypt. That master of Hermetism, Eliphas Levi, tells us this boldly in his Transcendental Magic, Its Doctrine and Ritual:
Price: $20.02
https://yoga-magick.blogspot.com/p/tarot.html
Waite Tarot, Tarot, A.E.Waite
==============================================================
CHI KUNG
The Way of Energy: Mastering the Chinese Art of Internal Strength with Chi Kung Exercise
For centuries, the Chinese exercise system called Chi Kung has been shrouded in secrecy. The Way of Energy is the first comprehensive guide to the most powerful form of Chi Kung ever developed—"standing like a tree".
A gentle, yet profoundly beneficial form of exercise, which requires very little movement, this form of Chi Kung unlocks deep reserves of energy builds internal stamina, strengthens immunity, relieves chronic illness, and promotes the natural regeneration of the nervous system.
Using step-by-step instructions and more than 100 drawings and full-color photographs, The Way of Energy tells how to:
-perform the entire sequence of rejuvenating positions
-combat stress by practicing Chi Kung while standing, sitting, working, playing, and even sleeping
-prevent and treat a wide range of common ailments
Continuing our best-selling series of books for mind and body which includes The Sivananda Companion to Yoga, The Dance Workshop, and The Book of Stress Survival, The Way of Energy will help you achieve physical fitness, mental clarity, and a profound inner strength and vitality.
$16.89
https://yoga-magick.blogspot.com/
Chi Kung, Qigong, chinese exercise
==============================================================
PALM READING
Cheiro's Palmistry: Book of Fate and Fortune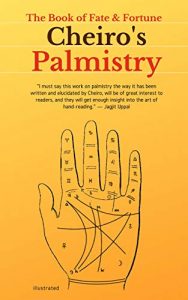 This is the complete and unabridged text of Cheiro's Language of the Hand which is regarded as the go-to Bible by both professional and amateur students of palmistry.
Cheiro acquired his expertise in India. At a young age he travelled to the port of Apollo Bunder, Bombay, where he met his Guru, an Indian Chitpavan Brahmin, who took him to his village in the Konkans, where he was permitted to study the ancient books on hands and hand reading.
After studying palmistry for over two years, he returned to England and started practicing palmistry in London. Soon he was enjoying a wide following of famous clients from around the world, including celebrities like Mark Twain, William Stead, Sarah Bernhardt, Mata Hari, Oscar Wilde, Thomas Edison, the Prince of Wales, General Kitchener, William Gladstone, and Joseph Chamberlain.
So popular was Cheiro as palmist that even those who were non-believers had their hands read by him. Sceptical Mark Twain wrote in Cheiro's visitor's book that "he (Cheiro) has exposed my character to me with humiliating accuracy. I ought not confess this accuracy, still I am moved to do so."
It is said that while reading the palm of the Chairman of the company that owned Titanic, Cheiro predicted the sinking of the famous ship.
Cheiro wrote this book based on his lifetime practice and study of hands across England, Europe and America. In the book he writes, "I have endeavoured to place clearly and candidly before the intelligence of the reader the rules and the theories I have proved to be true, and from whose foundations I have built whatever success I have achieved."
$9.38
https://yoga-magick.blogspot.com/p/palm-reading.html
Palm reading, foretelling, hiromantia
==============================================================
Yoga Mat
BalanceFrom GoYoga 7-Piece Set – Include Yoga Mat with Carrying Strap, 2 Yoga Blocks, Yoga Mat Towel, Yoga Hand Towel, Yoga Strap and Yoga Knee Pad
– BalanceFrom GoYoga Series 7-piece set includes: 1 yoga mat with carrying strap, 2 yoga blocks, 1 yoga mat towel, 1 yoga hand towel, 1 stretch strap, 1 yoga knee pad
– 2 Styles to choose from: set with 1/2″ thick mat and set with 1/4″ thick mat. 1/2″ .thick mat dimension: 71″ long 24″ wide; 1/4″ thick mat dimension: 68″ long 24″ wide
– With double sided non-slip surfaces, Both mats come with an excellent slip resistant advantage to prevent injuries. Moisture resistant Technology makes the mat to be easily washed with soap and water
– Our 72"x24" and 24"x15" yoga towels are made of 100% microfiber and feature prime absorption to provide slip-resistant and sweat-free workouts. 100% machine washable
– Other accessories: 1x yoga knee pad at 24″ x 10″, with 5/8″ (15 mm) thick for perfect cushion. 2x yoga blocks at 9″ x 6″ x 4″ and 1x yoga strap to make you a complete yoga set
$57.08
https://yoga-magick.blogspot.com
Yoga Mat, BalanceFrom GoYoga, Carrying Strap, Yoga Strap
==============================================================