Top 10 Experimental Towns and Communes
The notion of a utopia—a perfect, egalitarian, and harmonious paradise on Earth—has been a recurring theme in literature and storytelling for hundreds of years. It all started with the philosopher Plato's book Republic, and it's since been expressed in other books including Thomas More's Utopia and Edward Bellamy's Looking Backward, as well as in films like Lost Horizon and Things to Come. All this discussion of an ideal and peaceful society has encouraged many people to try and bring these ideas into reality through spiritual communes and new forms of community organization. Whether or not any of the following ten examples actually succeeded is definitely up for debate, but there's no denying that they work as some interesting experiments in formulating new ways of living.
Arcosanti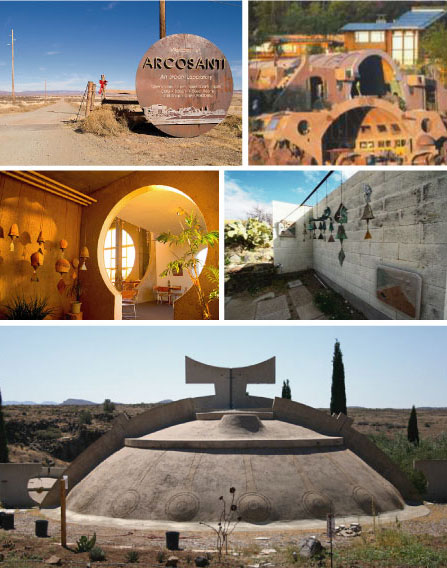 Arcosanti
In the desert 70 miles north of Phoenix lies Arcosanti, an experimental town built in 1970 that claims to be an attempt to discover the perfect fusion of architecture and ecology. As imagined by architectural mastermind Paolo Soleri, all the buildings within the city are designed so that they and the people who live in them can work in harmony with their environment. With this in mind, many buildings at the site are multi-use, and all make use of solar power for heating, cooling, and electricity. Arcosanti itself is less of a community than it is a school. Workshops are held throughout the year in order to teach people how to build in Soleri's unique style, and it is these students—along with the 50 or so teachers who make up the town's permanent population—who have constructed most of the buildings on the 25-acre site. image: http://www.chromasomatic.com
Community Philosophy:
At the heart of Arcosanti's philosophy is a strong belief in teaching people to live smarter. The community is meant to serve as an example of how urban centers could run more cheaply and efficiently with just a few design adjustments. For example, many of the buildings at the site are made to reflect the changing seasons, so that a maximum amount of sunlight is allowed in during the winter and a minimum amount during the summer. Meanwhile, the planning of the city itself avoided a typical grid layout in favor of a more courtyard-oriented style, which the residents say encourages community interaction.
Auroville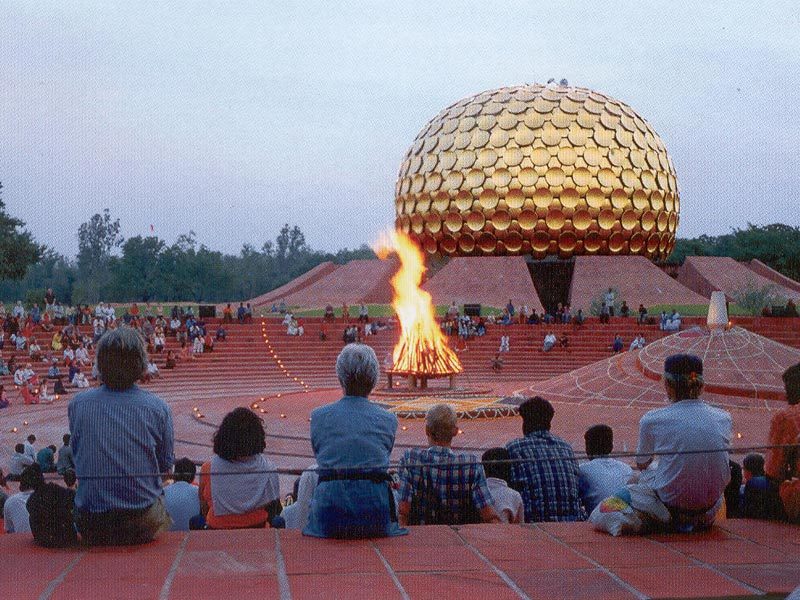 Auroville
One of the hallmarks of these experimental communities is an emphasis on love and peace, usually as filtered through a heavy dose of new age philosophy. Auroville, a multicultural city in southern India, is a perfect example. Since its inception, the town has worked to realize what its website calls "human unity" and the "transformation of consciousness." The colony was started in the late sixties by Sri Aurobindo and Mirra Richard, and its central philosophy is a belief that society will learn to progress forward only after people of many nations and cultures have learned to live together in harmony. The community works to act as a miniature experiment in world peace. Its over 2,000 residents hail from more than 40 different nations, and they all live and work together with a mind toward finding new and unique ways to achieve balance and harmony among people of different races, religions, and political backgrounds.
Community Philosophy:
Residents of Auroville are expected to build their own house and make donations to the community fund, but beyond this all necessities—including public school, utilities, and health care—are covered by the community, which is itself partially financed by the Indian government. There is no form of hard currency within the commune; rather, all residents use an account system that connects to a central bank. The city is designed in the shape of a circle, around which are areas containing gardens, farmland, an educational and cultural center, and a so-called "peace area" where silence is enforced at all times.
Findhorn Ecovillage
Scotland's Findhorn Ecovillage is perhaps the most notable example of a community founded on principles of environmental sustainability and renewable energy. The commune was started in the 1960s, but it didn't take on its current form until 1982, when residents made a concerted effort to show that an environmentally unobtrusive community could flourish both socially and economically. The village still exists today, and has been noted as having the smallest environmental footprint of any town in the modern world. This is thanks to an ecologically friendly building code that encourages the use of found materials—several houses are built from recycled whiskey barrels— along with wind turbines and a water treatment apparatus called the "Living Machine," which makes use of algae, snails, and plant life to purify the community's water supply.
Community Philosophy:
Part of Findhorn's intended commitment to sustainability is an emphasis on autonomy. The village's 350 residents have their own school, arts center, and businesses, which include everything from printmaking to pottery. There is even an independent currency, called the Eko, which is accepted at all community businesses. Beyond its ecological goals, the village has also gained a reputation—to some controversy—for espousing a new age philosophy of spiritualism and holistic health. Findhorn offers retreats that claim to assist in achieving sound mental health, and the organization has even put out a therapeutic board game that it claims can be "a substantial way of understanding and transforming key issues in your life."
Pullman, Illinois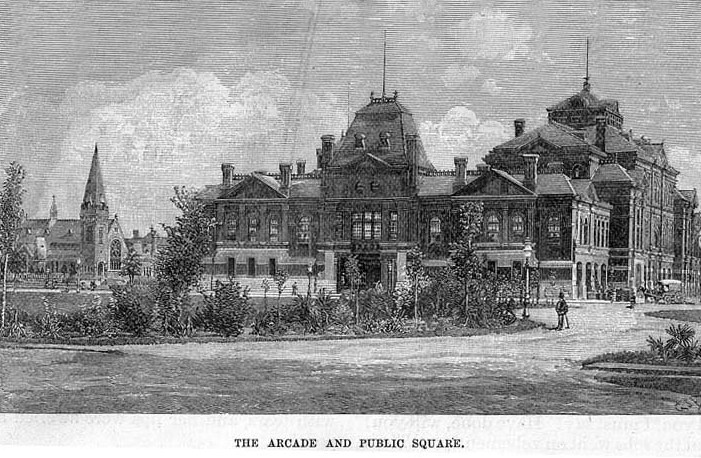 Pullman
Though these communities are always started with the very best of intentions, sometimes the line between utopia and dystopia can get a little blurry. Such was the case with Pullman, Illinois, a company town that started as its own workers' paradise and gradually degraded into an outright dictatorship. The town was conceived by George Pullman, a powerful industrialist who'd made his fortune building ornate and expensive sleeping cars for passenger trains. In 1880, Pullman purchased several thousand acres of land on the outskirts of Chicago with a mind toward building a new factory. Thinking that he could also satisfy his workers by giving them a nice, safe place to live, Pullman had his architect design a miniature town around the factory. The town featured elaborate Victorian architecture and included its own school, shopping centers, theatre, library, church, and even a man-made lake.
Community Philosophy:
For the first few years, the town of Pullman seemed to be a remarkable success. It was used as an exhibit at the Chicago World's Fair, and it regularly won awards for being one of the best places to live in the country. But beneath its quaint exterior, Pullman was hiding a dark secret. Most troubling of all was that George Pullman ran the town like a despot. He banned certain business (like saloons) from opening nearby, forbade the town from starting an independent newspaper, and regularly had inspectors search through employees' homes for signs of damage or lack of cleanliness. Employees often protested his baron-like behavior, but they had no recourse, since the town and all its 1400 structures were entirely owned by the company. When he lowered wages in 1894, things quickly turned violent, and a large-scale strike in Pullman had to broken up by the military. In the wake of this incident, the government looked into the legality of the town of Pullman and deemed it "un-American." It was then broken up and later annexed by the city of Chicago.
The Harmony Society Communities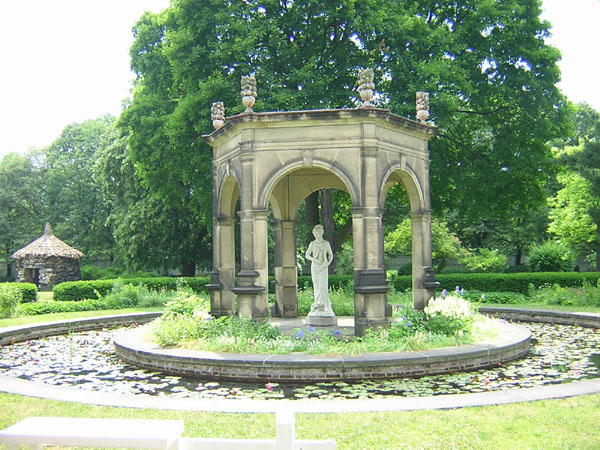 Grotto (far left) and statue of Harmonia in the Harmony Society gardens in Old Economy Village, Pennsylvania.
Religious utopian communities were all the rage in the 1800s, and the communes started by the Harmony Society are some of the most famous examples. The society formed in Germany in the late 1700s, but their mystical take on Christianity soon drew the ire of the Lutheran Church.  A group led by Johann Georg Rapp immigrated to the Pennsylvania in 1803, and it was there that they decided to establish the first of what would eventually be three independent communes. Their Pennsylvania settlement, called Harmony, proved incredibly successful, and it eventually boasted a population of over 800 followers. The residents sold the land for a profit after ten years and started a new commune in Indiana, but they returned to Pennsylvania in 1824 and formed a third commune, which they called Economy.
Community Philosophy:
The Harmony Society's theosophist religious convictions meant that they had very strict behavioral codes. Chief among them were strong beliefs in temperance, celibacy, and equality. Members rejected worldly possessions, eschewed sexual relationships—including marriage, to a certain extent—and practiced nonviolence. Rapp acted as the community's resident prophet, and made several predictions about the imminent return of Jesus to the Earth. When his predictions didn't come true, many members abandoned the community, but it managed to survive well until after Rapp's death in 1847. Economy, PA finally dissolved in the early 1900s, both because of an ever mounting debt and because the residents' celibacy guaranteed that there was no new generation left to take over.
The Federation of Damanhur
Named after an ancient Egyptian city, the Federation of Damanhur is a utopian commune located outside of Turin, Italy. It was started in the '70s by Oberto Airaudi and a small group of followers, and today it counts as many as 800 citizens among its ranks. There are even offshoot centers for the group located as far away as the U.S. and Japan. The community refers to itself as a "collective dream" where "spiritual, artistic, and social research" takes place. The group prizes environmental sustainability, artistic expression, and optimism above all else, and meditation and self-knowledge are considered fundamental to personal growth.  But while this philosophy might not seem extraordinary, the way it is expressed certainly is. This was most apparent in 1992, when the group revealed a series of striking underground temples—supposedly a monument to peace and the power of human collaboration—that they had been constructing since the late '70s.
Community Philosophy:
Damanhur, though not sovereign from Italy, operates as though it were its own independent nation. There is a constitution, a currency called "credito," and an independent infrastructure, and at this point there are even grown children who were born in the community and have lived there all their life. Perhaps most interesting is the community's style of marriage, which works on a contract system. Prior to their wedding, couples decide on a period of time that the marriage will last. Once that period has elapsed, the two can either go their separate ways or agree to renew the marriage for a new span of time.
The Farm
Communal living experienced a renaissance with the rise of the hippie movement, when thousands of young people dropped out of society and attempted to form independent, utopian communities. The biggest and most notable of them all is certainly a town in Summerton, Tennessee known only as "The Farm." The town was the brainchild of Stephen Gaskin, a creative writing teacher from San Francisco who led a caravan of cars and busses across the country to Tennessee, where they bought a 1,000-acre tract of land on a former cattle ranch. The Farm soon became legendary in underground culture, and as new members journeyed to Tennessee from around the country, the community soon grew into a miniature metropolis of tents and log cabins. By 1980, there were over 1,000 people living at the Farm.
Community Philosophy:
In the early days, residents of The Farm took a "vow of poverty" and swore off tobacco, alcohol, and all animal products. All possessions were communal, and residents regularly engaged in group marriages. These restrictions have since loosened, but the community still maintains a steadfast devotion to vegetarianism and environmentally friendly living, and today it works as an ecovillage where all power is generated through solar panels and biofuels. It also has an acclaimed school of midwifery, a book publishing company, and a grade school. Residents have even spearheaded a number of different charitable endeavors around the world. The community went through some tough time in the 80s, and many of the original members abandoned it, but it's still around today, and as many as 175 people live and work there year round.
Israeli Kibbutzim
The term "kibbutz" doesn't refer to one specific community, but rather to a form of experimental living that became popular in Israel in the late 19th and early 20th centuries. The term itself can be translated as "gathering," and it's used to describe the numerous cooperative communes that were founded by Jewish immigrants in Palestine prior to the creation of Israel. Many came to the Middle East from Russia to be pioneer farmers, and they chose to live collectively because it allowed for greater safety and a more efficient way of growing crops. Most kibbutzim had about 200 members, and by 1950 there were as many as 60,000 people living in the communes all across Israel. The communities were originally started purely as Jewish farming ventures, but by the '30s many had taken on a socialist philosophy, and some of the kibbutzim with more utopian goals began to allow people of all religions to join.
Community Philosophy:
A key philosophy of these kibbutzim was a devotion to equality. All major decisions were made communally in group meetings. Women were seen as equals to men, and were even required to serve as armed guards at times. There were no personal possessions—not even clothing—and even children were considered to belong to the community at large. Most grew up living with one another in their own communal house, and they spent little time with their parents outside of community activities. After the formation of Israel and the rise of capitalism, many of these values began to be replaced by more modern, individualistic tendencies. Today, most kibbutzim have become private enterprises, and farming has largely been abandoned. Despite this decline, there are still as many as 125,000 people—about 3% of the total population—currently living in kibbutz-style communes all over Israel.
Oneida Colony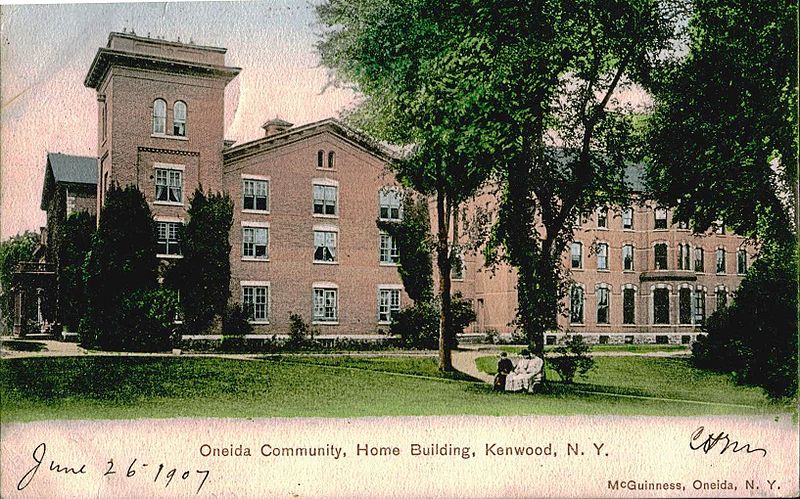 Oneida-Community
New York's Oneida Colony community was started in 1848 by John Humphrey Noyes, a practitioner of a sect of Christianity he called Perfectionism, which stated that Christ had already returned and it was the people who had to build paradise on Earth. The community started as a small group of about 80 people, but this number had doubled within a few years, and by 1880 there were as many as 350 people of all ages living at Oneida. The group had a small plot of land, but its primary base of operations was a 92,000 square foot mansion house, where all the members lived and worked communally.
Community Philosophy:
Oneida worked under a pseudo-socialist style wherein each member would work to the degree that they were able. Women were afforded more freedom than was common at the time, and all possessions were communal. Noyes instituted a strange program of character improvement where each member of the group was regularly brought before a committee and told their personal flaws, which they were expected to fix. As a rule, monogamy was forbidden within Oneida. Instead, the community engaged in a "complex marriage" system where each member was effectively "married" to everyone else. Strong attachments to a single person were discouraged, and members of the commune would regularly trade out sexual partners throughout the course of the week. This included young people, who were supposedly "initiated" into the program by an elder member of the opposite sex. These practices proved to be Oneida's undoing, as Noyes was forced to flee the country in 1879 in order to escape charges of statutory rape. Without his more-than-questionable guidance, the community soon broke apart.
Brook Farm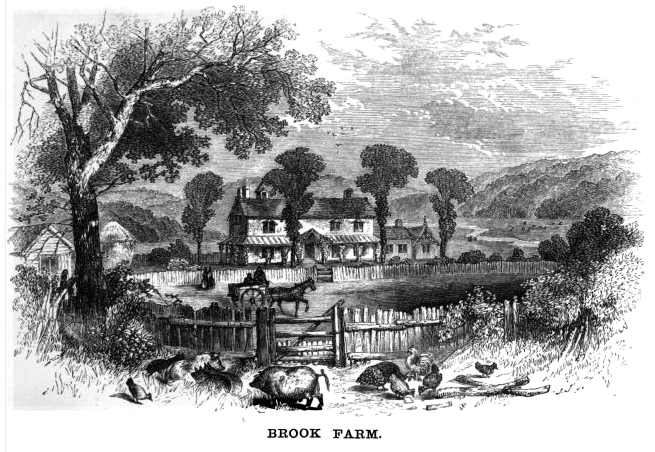 Brook-Farm-engraving
Massachusetts's Brook Farm community only lasted for five years, and was a conclusive failure in nearly every way. But it remains one of the most notable experimental communities of the 1800s, if only because of the many famous people who were associated with it.  The town was started by George and Sophia Ripley in 1841. The couple subscribed to the transcendental philosophy espoused by poets and thinkers like Ralph Waldo Emerson and Henry David Thoreau, and they based their community on these ideals. The basic idea was that by pooling their labor efforts, a society could eliminate the drudgery of work and have time engage in intellectual pursuits and leisure activities. The Ripleys raised money through a joint stock company that counted Nathaniel Hawthorne among its investors, and after buying several acres of farmland outside of Boston, put their experiment into action.
Community Philosophy:
In the beginning, Brook Farm worked around a policy of personal freedom and equality. Members were allowed to choose what kind of work they wanted to do, and special time was set aside for leisure and intellectual study. Women enjoyed much greater equality than was common at that time. Not only were they paid the same as the men, but they were considered autonomous from their husbands and were allowed to be shareholders in the community at large. The commune tried to self-sustain by farming, opening a school, and selling goods like clothing, but they were never able to fully get out of debt. These financial troubles, along with Ripley's inability to get luminaries like Emerson or Thoreau (who visited many times) to become permanent members, eventually led to the adoption of a more rigid, socialistic philosophy. Against the wishes of many of the members, the community had soon adopted more rules and social guidelines. When a massive communal house caught fire and burned halfway through construction, Brook Farm fell into even more debt, and in 1846 it dissolved for good.
Preuzeto sa: http://www.toptenz.net/top-10-experimental-towns-and-communes.php